By SCOTT MCKIE B.P.
ONE FEATHER STAFF
     Kyra Climbingbear, an EBCI tribal member sharing time between New York City and Piscataway, NJ, has been nominated for three Native American Music Awards (NAMMYs).  She was nominated for Debut Artist of the Year, Best Female Artist and Song/Single of the Year for "Champion". 
      "My kids are an inspiration, but more so, encouragement for continuing to pursue music," said Climbingbear in talking about her two girls, ages two and six. 
     Climbingbear is the daughter of Evelyn Jeffrey and Isaac Climbingbear. "My second mother is Myrna Climbingbear," she said.  "I am the granddaughter of Myrtle Driver, and I am also the granddaughter of Henderson Climbingbear, Sr." 
     Following is a brief interview with the R&B singer who blends her roots together to make beautiful, powerful music. 
COF: What or who is your inspiration for your music?
     According to my mother, I have been musically inclined since I was toddler. My mother says that it is because of my uncle Eli Climbingbear. There's a saying you are most like the person who walked you through the house and that was my uncle Eli. But, I'd say my Uncle Eli and my brother Scott Graham. Both of these men had vast music collections so I was exposed to many different genres at an early age. I've been told my father is also a good singer though I've never heard him sing. My mother has also been an inspiration. Singing to me as a child. My favorite lyrics that she sang were " Don't carry nothing that will be a load" from The Wiz.
     Life has inspired my desire to pursue music as a career. I am the most complete when I sing and nothing else has ever felt more natural.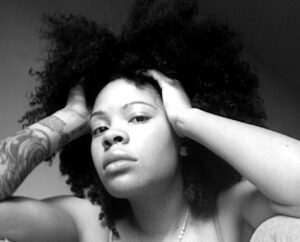 COF: Out of the box, the first time I heard your music, you reminded me of Mary J. Blige.  Which artists have you been compared to and which artists do you look up to? 
     I'm often compared to Lauryn Hill, N'dambi, Erykah Badu, and Kelis. I actually love that I remind other people of these phenomenal singers as I have "shed" to them! (shed meaning studied their technique).  I look up to many artists…besides the women already mentioned: Miles Davis, Coltrane, Nina Simone, Marlena Shaw, Prince, etc. There are so many artists and not enough space. I love artists that were originals! That were not copying off of anyone else's style. Stayed true to themselves and  were visionaries. I love Nina Simone most because she didn't try to sound "pretty", but instead sang from her soul. She sang and you felt it!
COF: What was your reaction to being nominated for three NAMMY awards?
     Honored. I can't believe the response from people. I receive random emails or messages on facebook praising my music! It's weird… I don't know how to take it. I'm just thankful that I am well received.
COF:  Your song "Champion", nominated for Song/Single of the Year, has a powerful beat and the vocals are out of this world.  What was your inspiration for the song and what goes through you as you perform? 
     "Champion" is by far one of my favorite songs! It's weird knowing I wrote it. The lyrics are very powerful to me. I was in a rock band and it was the first serious band situation I'd ever been in.  I worked really hard to be a part of the band. Sold over 70 tickets each show (on my own), spent over $10,000 for band equipment and other misc.   Long story short, I was kicked out the band when an opportunity to sign a record deal was put on the table. The leader of the group said I was too "Urban". I was distraught because not only had I spent a lot of my per cap money that I had saved for a down payment on a house, but I had been betrayed. I felt lost and broken. I wrote this song not even a month after that experience. Instead of being defeated I kept moving forward. I like to think of "Champion" as my theme song like how Rocky needed "Eye the Tiger". When I perform it, I feel the warrior in me. I feel like a "Champion". I remember the hurt and I sing through it!
COF:  Your music runs the gamut of R&B from driving beats to a smooth, almost-jazzy feel on songs like "What Loves About".  Where do you feel most comfortable musically?
     Music is music. I don't believe in genres. I believe that we sing from our heart and our soul. I'd like to think that when I sing I'm being genuine. Musically, there's not too many differences (vocally) singing Jazz, R&B, Blues, or Gospel. It's all black music and with the exception of Jazz follows the Panatonic Scale. I'm currently singing with a drum. I'm learning Powwow music and that is, by far, the most uncomfortable situation because I am not used to it. It is easy for me to sing Jazz, R&B, Pop,Opera even Country and I am phenomenal at IMPROV singing, but powwow, that is scary… I can't wait to be able to say I'm comfortable in ALL music! lol
COF: You come from two worlds (African-American and Native American).  How do you draw on each for your music? 
     I love being bicultural. I am lucky to be of two very strong and proud people. The blood remembers. The blood remembers our struggles, our wins, our losses. My blood is of two people that had have it the worst in America. When I sing I am singing for my ancestors. I am singing for their losses, their wins and ultimately for their memory. I like to think I sing so well because I am African American. I like to think I express myself so well because I am Cherokee. I've got the best of both worlds!
COF: What message would you like to send to your Eastern Cherokee people? 
     I encourage all of our youth to continue to pursue your dreams! It is hard to be Cherokee. Don't let the actions of your peers or family stop you from being successful. We have a world of opportunity… use it!
     I will be in Cherokee and I would love to help anyone who needs help with music. I am a certified recording engineer and I have no problem volunteering my time and talent!  We are all Champions sometimes we just need a personal trainer! lol
     Lastly, I'd like to thank my grandmother Myrtle Driver for always being available to me and answering all my questions!
      For more on Kyra Climbingbear, visit www.kyraclimbingbear.com or check out this artist profile of her on YouTube https://www.youtube.com/watch?v=AdsQ89Hfk5A.