By SCOTT MCKIE B.P.
ONE FEATHER STAFF
     When I first put this CD in and started listening to it, my first thought was, "Well, it's another typical album by Tha Tribe." 
     And, in this case, typical is good…just about great.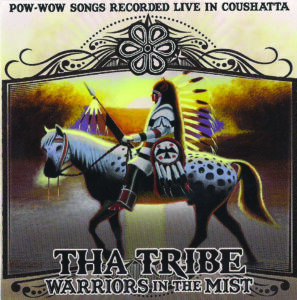 Tha Tribe has consistently put out some of the best pow wow albums over the last several decades and their latest installment, Warriors in the Mist, surely doesn't disappoint. 
     Warriors in the Mist opens with a strong, straight intertribal song made by Jay Dusty Bull.  Liner notes tell that the song was made for Dusty Bull's niece, Misty Goings, and the song itself is one of those catchy vocable intertribal songs that'll stick with you a few days for sure. 
     One of my favorite tracks on the album is "Get It" composed by by Shane Webster.  Another straight, vocable song, "Get It" is quintessential Tha Tribe all the way.  It starts with a strong lead, killer seconds and just goes from there. 
     The 14-track album, recorded live at the Annual Coushatta Pow Wow in Kinder, LA last October, has a run time of over 41 minutes. 
     Check out this typical album which is anything but typical…that is, unless you're Tha Tribe.