By SCOTT MCKIE B.P.
ONE FEATHER STAFF
                Although members of the Eastern Band of Cherokee Indians and citizens of the Cherokee Nation are separated by 2,000 miles and several states, they are bound by a common language, culture and heritage.  This bond was made stronger as members of the Cherokee Nation visited the Cherokee Indian Reservation on Thursday, June 16 as part of a special tour organized by the Cherokee Nation. 
                Tour members visited various attractions in Cherokee including the Museum of the Cherokee Indian, the Oconaluftee Indian Village and the Qualla Arts & Crafts Mutual, Inc. 
                The Cherokee National Youth Choir performed a four-song impromptu concert Thursday morning in front of the Qualla Arts & Crafts Mutual.  All of the songs were sung in the Cherokee language.   
                The Youth Choir is scheduled to open the Unto These Hills drama tonight with a full performance. 
                Led by director Mary Kay Henderson, the Choir traveled with 33 students and several chaperones.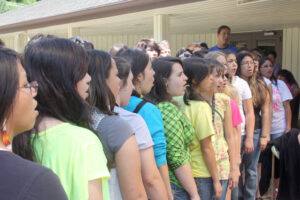 "This tour is about teaching the kids a cultural lesson on a west to east tour," she said. 
                Along the way, the group will visit other sites relevant to Cherokee history.  On the way east, the group visited Lake Dardanelle State Park in Arkansas and Fort Loudon Historic Site in Tennessee.  On the way back to Tahlequah, Okla., the group plans to visit the Red Clay Historic State Park and Ross' Landing in Tennessee. 
                Molly Jarvis, vice president of Cultural Tourist at Cherokee Nation Entertainment, said in a statement, "This is a remarkable learning opportunity for tour group members and blog followers.  Cherokee Nation history will be presented geographically, musically and culturally along the Trail of Tears, which is a very somber period and has since defined the Cherokee Nation from east to west."