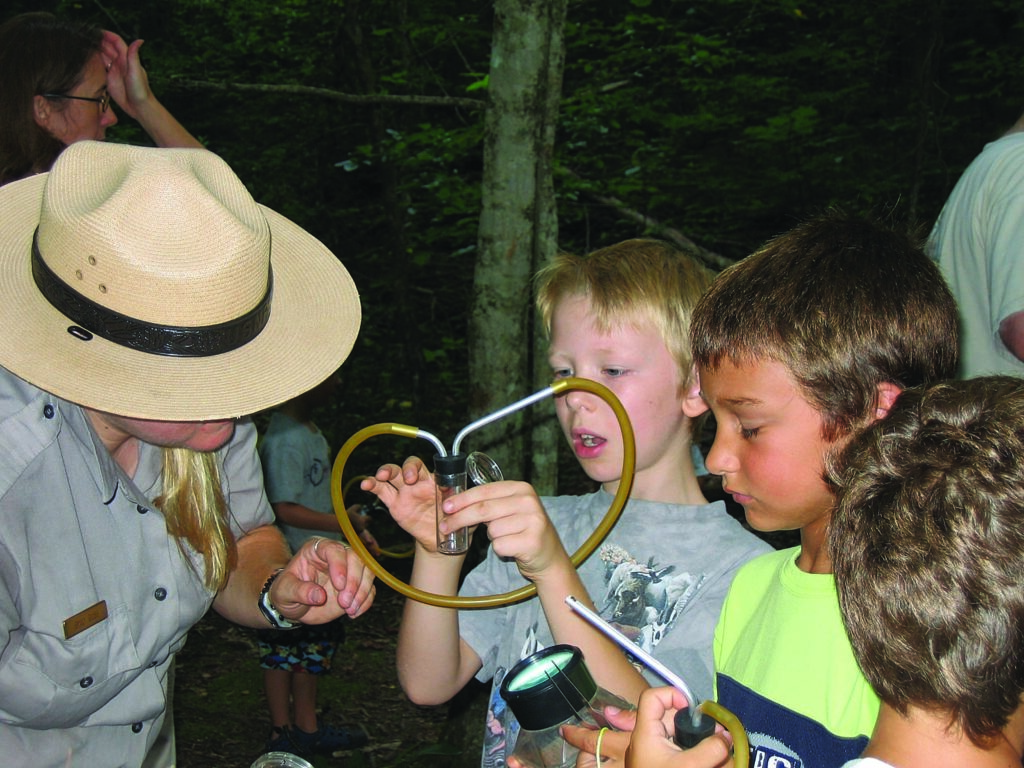 Great Smoky Mountains National Park will celebrate the fifth annual National Junior Ranger Day on Saturday, April 16, from 10 a.m. to 2 p.m., with special activities at all three of the Park's visitor centers.
            Children and their families can join in a variety of free, hands-on activities at Sugarlands Visitor Center near Gatlinburg, Tenn.; Cades Cove Visitor Center near Townsend, Tenn.; and Oconaluftee Visitor Center near Cherokee, N.C.   Activities planned will range from ranger guided walks and programs to making dinner bells at a blacksmith shop.  Making historic toys, cornhusk dolls, and visiting touch tables with animal skins, skulls, and scat are a few of the other natural and cultural opportunities that will be available.  Information on the specific programs is available at the visitor centers.  High school students have a special opportunity at the Sugarlands Visitor Center to participate in a citizen science project as part of a High School Volunteer Day event.  To register for the High School Volunteer Day, please contact Emily Guss (Emily_Guss@nps.gov, 865-436-1713).
            Children can "earn" their Junior Ranger badge by completing three of the specially-planned activities.  A Junior Ranger booklet is also available for those who would like to explore the Park in more depth.  The Junior Ranger booklets, produced in cooperation with Great Smoky Mountains Association, can be purchased for $2.50 each at Park visitor centers.
          "National Junior Ranger Day provides a great opportunity for children and families to spend time together learning about the Park while doing fun activities," said Park Superintendent Dale Ditmanson.  "We hope that our local residents will take advantage of this program to interact with our staff and the resources, and, at the same time, plan a full day in the Park," he continued.
            National Junior Ranger Day is a special event for National Park Week, celebrated this year between April 16 and 24.  National Park Week is an annual Presidentially proclaimed week for celebration and recognition of National Parks.  This year's theme is "Healthy Parks, Healthy People."  Most parks throughout the country will host ceremonies, interactive games, and special events designed to connect children with the resources found in national parks. 
            For information and questions about Junior Ranger Day, please contact Sarah Holman (Sarah_Holman@nps.gov, 865-436-1252).
– NPS