Mary Elizabeth (Lib) Dewees, 92 years old, died Tuesday, Jan. 4, 2011 at the home of her daughter and son-in-law, Becky and Dick Olson.  Lib was born in Lake City, SC on June 16, 1918 to loving parents John Otis and Clyda Caldwell Green.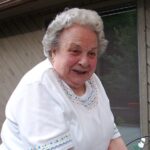 She attended Winthrop College, taught elementary grades in a two-room school house for two years, and graduated from Duke University with a BS in Nursing in 1943, scoring 9th from the top on her nursing boards. After additional graduate work in psychiatric nursing, she became director of nursing at Highland Hospital, Asheville, NC. At Duke she met her future husband, Philip Dewees, while he served in the Civilian Public Service. They married in 1943, lived in PA and WI for Phil's medical training, and moved to Sylva, NC in 1951, where she assisted him in setting up his family practice. Dr. Dewees died in 1973.
Lib retired from nursing in 1983 having worked with the American Red Cross, Jackson County Cancer Clinics, Southwestern Community College nursing program, and volunteer roles too numerous to list. She served as a member of the Jackson County Board of Education for several years. She was a charter member of the Jackson County Garden Club and the Jackson County League of Women Voters, having become a member in PA many years prior. She also served as a Ruling Elder of the Sylva First Presbyterian Church.
Lib was chosen as "Woman of the Week" in 1964 by The Asheville Citizen newspaper. That article stated "Whenever there's a worthy cause to be championed, you'll likely find Elizabeth Dewees of Sylva on the front line. It doesn't matter whether or not the cause is a popular one; once she in convinced that something needs to be said or done, she gets on with it."
She has been an amazing role model for family and friends, providing jokes and hugs, as well as roots and wings. Recently she said, "All things considered, even at this age, I still want to change the world."
Lib is survived by:  sons, Steve (Elizabeth), Tom (Sherry); daughters, Debbie Baughn (Dean), Becky Olson (Richard), Johanna Dewees (Libby Puckett); and  sister, Enid C Green. She is also survived by her nephews Hugh, Sam, Lloyd, David and Stephen Lambert. She delighted in the love of seven grandchildren and 12 great-grandchildren.
A memorial service will be held Saturday, Jan. 22 at 3 pm at Appalachian Funeral Services in Sylva. Family will receive friends at the funeral home from 1-3 pm that day.
In lieu of flowers memorial tributes may be made to The Good Samaritan Clinic of Jackson County, 538 Scotts Creek Road, Sylva, NC  28779.