By RENISSA WALKER
Representatives from the Eastern Band of Cherokee Indians, Graham County Indian Education, Swain County Schools, and Principal Chief Michell Hicks met with three members from the North Carolina Department of Public Instruction (NC DPI) on Monday, July 12.  The purpose of the meeting was to discuss the next steps to finalize development of a Cherokee language proficiency test to meet license requirements for highly qualified teachers in North Carolina.
Discussions with NC DPI began a couple of years ago as a result of public schools requesting Cherokee language be taught at area schools.  During the 2009-2010 school year, Graham County Indian Education, with the assistance of the Cherokee Language Program at Western Carolina University (grant funded by the Cherokee Preservation Foundation) started a Cherokee Language High School I and II class. 
The courses, offered at Robbinsville High School, meet the NC Standard Course of Study for second languages, and through a written agreement with WCU, meet the foreign language requirements for college entrance.  The creation of the proficiency test was spurred by the public school's requirements to have "highly qualified" teachers in the classroom.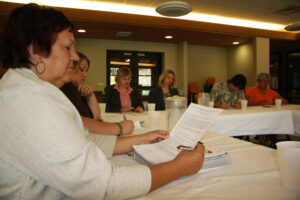 The lengthy process to create the proficiency test officially began with the passing of legislation in Tribal Council on July 1.  The resolution, granted the forum (WCU, Kituwah Preservation & Education Program, Cherokee Central Schools, Principal Chief, Deputy Administrative Officer, and Director of Youth and Adult Education) permission to proceed with the development of the testing instrument. 
Currently, there is not a Cherokee language proficiency test that is recognized by the NC Department of Education. 
It is the intention of the forum, once the proficiency test is in place, to advocate for all schools within the NC university system to allow the Cherokee I and II classes to meet the requirements for college entrance. 
Renissa is the manager of the Kituwah Preservation & Education Program (KPEP).