Hugh William LaShomb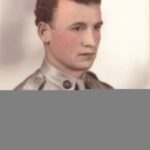 Hugh William LaShomb, 83, of Hospital Rd in Cherokee went home to be with the Lord Saturday May 29, 2010 at Cherokee Indian Hospital.  Hugh was born in Massena, New York on November 10, 1926. He was the son of the late Leon LaShomb and Ethel Fregoe LaShomb. Besides his parents he was preceded in death by his wife of 59 years, Myrtle Youngbird LaShomb who he married in 1948 at the Catholic Church in Biloxi, Mississippi. He attended Sacred Heart School in Massena, NY, St.
Joseph Academy Brasher, NY and Southwestern Community College in Sylva, NC. He served in the US Navy from 1944 to 1947 and in the US Air Force from 1947 to 1970 and worked at Cherokee Post Office for 14 years from 1974 to 1988. Hugh was a member of Our Lady of Guadalupe Catholic Church in Cherokee, NC, American Legion, VFW, Lions Club, and the Air Force Sergeants Association.
He is survived by four brothers: Earl and wife Mia LaShomb of Phoenix, Arizona, Victor and wife Pauline LaShomb of Massena, NY, Harvey LaShomb of Brasher Falls, NY and Clark and wife June LaShomb of Norfolk, NY; a sister-in-law, Ruth Youngbird Beck of Cherokee, NC; and
53 nieces and nephews.
Mass of Christian Burial will be at Our Lady of Guadalupe Catholic Church in Cherokee 12:00 Noon Tuesday with burial in the Jarrett Blythe Cemetery with military rites being conducted by the Steve Youngdeer American Legion Post 143 Cherokee, NC.
The family will receive friends from 10:00 until 12:00 Noon Tuesday at the Church.
Crisp Funeral Home is in charge of arrangements.
In lieu of flowers, memorial contributions may be made to: You Favorite Charity.