The Ray Kinsland Leadership Institute (RKLI) held a series of open house events Nov. 21-22 to celebrate the renovation of their permanent home at the Noah Powell Education Center on the Cherokee Boys Club campus.
The Ray Kinsland Leadership Institute is a department of the Cherokee Boys Club and serves as the umbrella organization for three culturally-based leadership programs for Eastern Band of Cherokee members: The Cherokee Youth Council (youth grades 7-12), Jones-Bowman Leadership Award program (college undergraduates), and the Duyugodv'i Right Path Adult Leadership program (adults 18+).
While the programs are funded by the Cherokee Preservation Foundation, the renovation was a collaborative effort supported by the Cherokee Preservation Foundation, the Eastern Band of Cherokee Indians, and the Cherokee Boys Club.
"Our programs adopted the seven Cherokee core values as our foundation and one of the values is sense of place," said Tonya Carroll, department manager of the RKLI. "We are so excited to provide a permanent home for our programs so that our alumni and participants can have a sense of place while they are here."
The seven Cherokee core values were developed through a community-wide planning process and are: Group Harmony, Spirituality, Strong Individual Character, Sense of Place, Honoring the Past, Educating the Children, and Sense of Humor.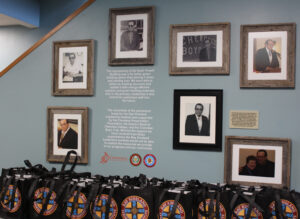 The building was renovated with a focus on energy efficiency and environmental sustainability. Placards made of recycled materials decorate the walls of the building explaining each component of the renovation that reflects these efforts. Photos of Mr. Ray Kinsland, the namesake of the leadership umbrella, are hung in the entrance to honor his strong leadership and to remind the staff daily of the RKLI mission: To create a generation of selfless leaders deeply rooted in Cherokee culture.
Additionally, a documentary video on Ray Kinsland was filmed by Raven's Eye Media and can be viewed online along with more information about RKLI and its programs at www.rkli.org.
– Tonya Carroll, RKLI department manager