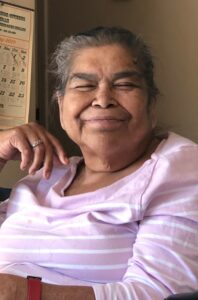 Minda Faye Lambert Ross, 64, of Cherokee, passed away after an extended illness while at Mission Hospital Memorial Campus on the evening of Thursday, Nov. 21, 2019. Minda will be greeted at Heaven's Gate by her late husband, Red (Carlin John William) Ross; her father, Herbert Allen Lambert; and one brother, Petes Gun Lambert.
Minda is survived by her mother, Jean Clara Tahquette Bushyhead; brothers, Robert (Mary) Lambert, Jody ( Lisa) Lambert, and Darrell (Tammy) Lambert, all of Cherokee; and beloved children, Claudette Ross, Cassandra Ross (Dusty Brady), and John Ross (Evie Tolley). Minda loved being a grandmother to her grandchildren Malia Brady, David Brady, Arralynn Brady, Carlin Lee Ross, and Keylan Locust. She also leaves behind her special friend, Jan Smith.
During her time here, Minda was a nurse at Cherokee Indian Hospital where she enjoyed her job and helping people. She was an OU fan and loved to read books by Suzanne Collins.
Visitation for Minda Faye Lambert Ross will be on Monday, Nov. 25 at Long House Funeral Home from 11 a.m. until 2 p.m. with funeral services to begin at 2 p.m. at Long House Funeral Home. After funeral services, internment will take place at Tahquette Seay Cemetery off of Bob Seay Rd. Pallbearers will be among family and friends.
Long House Funeral Home assisted with arrangements