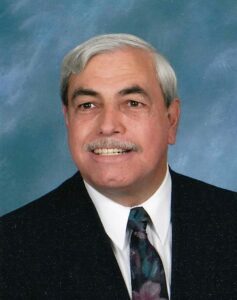 MAGGIE VALLEY – Reverend Richard "Ricky" Dean Mason, age 69, passed away on Saturday, Nov. 9, 2019 at his residence surrounded by his loving family.
A native of Haywood County, he was a son of Burl and Mildred Wright Mason.  He was also preceded in death by three brothers, Roger, Hugh, and Randy Mason.
At a young age, Ricky was called into the ministry faithfully serving his Lord for over 50 years.  Ricky's ministry began at the Sunny Point Revival where 372 individuals were saved over a period of 21 days, an influential moment that led to his first church in 1969, Richland Baptist Church, in Waynesville.  He was then called to Greenlee Baptist Church, in Old Fort, where he served for 10 years; Ellistown Baptist Church, in Mississippi, for two years; Berry Chapel, in Spruce Pine, for three years; East Fork Baptist Church, in Cruso, for six years.  Ricky then returned to Greenlee Baptist for ten additional years; Maggie Valley First Baptist Church, where he served for 10 years; and served as an interim at Lake Junaluska First Baptist Church for 15 months.  The North Carolina Baptist State Convention played a significant role in his ministry.  A three-year participant with the conventions nominating committee, Ricky was asked earlier in 2019 to serve on the Board of Directors.  He was recently honored by the convention for his efforts with Ignite Youth Rally's.  In addition to his pastoral calling, Ricky retired in 2015 serving as the Interim Director of Missions for the Haywood Baptist Association.  Earlier in 2019, Ricky served on the planning committee for Franklin Graham's Crusade tour of North Carolina.  This past October, Ricky delivered his final sermon to the Sunny Point Baptist Church congregation, where his pastoral life's work began.
Ricky is survived by his wife of 44 years, Marilyn Mason, of Maggie Valley; a daughter, Kayla Kolp, and her husband, Adam, of Waynesville; a son, Scott Mason, and his wife, Amanda, of Candler; Ricky's German daughter, Svenja Neubert, an exchange student who became a dear member of his family, and her husband, Sven and daughter, Leana, of Kiel, Germany; sister, Cathy Berlin and her husband, Bruce, of Lake Junaluska; a brother, Burrell Mason, of Clyde; and three grandchildren, Peyton, Keira, and Ava.
Funeral services were held on Tuesday, Nov. 12, 2019 at Calvary Road Baptist Church with the Reverend Clayton King and Reverend Stephen Buys officiating.  Burial followed at Garrett-Hillcrest Memorial Park.
In lieu of flowers, memorials may be made to the National Pancreatic Cancer Foundation, P.O Box 1848, Longmont, CO 80502.