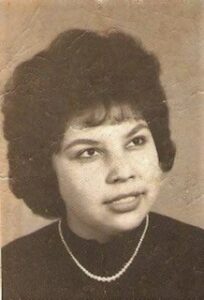 Velma Jane Wolfe Taylor, 74, of the Big Cove Community, passed away on Sunday, Nov. 10, 2019 in her home surrounded by her loving family. Velma is the daughter of the late William Wallace Wolfe and Mary Ann Tooni Wolfe.
Velma is preceded in death by her son, Robert Christopher; and four sisters, Regina Wolfe, Emily Smith, Geraldine Walkingstick and Frances Wolfe.
Velma is survived by her sisters, Hazel Howell, Penny Rosillio-Perez and Donna Sue Wolfe, all of Cherokee; one brother, Bill Wolfe of Georgia; adopted sisters, Emily West, Carolyn Bowman; and adopted children, Jim Pritchard, Alan Fugate, Susan Anderson, and many loving nieces and nephews.
Her immediate family, son, Bo Taylor, daughter-in-law Esther and grandchildren, Cia Walayla Monette (Brian), Abigail Salalisi, and Naomi Watiyeli who loved and will remember her with fond memories. Velma was a hard worker and generous with her time and energy. She worked many years for Cherokee Indian Hospital, Qualla Housing Authority. Harrah's Cherokee Casino, but her greatest job was a mother, auntie and nana.
The family would like to thank everyone that asked and sent her well wishes during her extended illness. Her sister, Hazel, was her friend, caregiver and loving sister till the end. Her special friend, Kingsley Cujo Howell, traveled her last journey with her.
Funeral services will be Wednesday, Nov. 13 at Cherokee United Methodist Church at 2 p.m. with Pastor Gary Collier and Pastor John Ferree officiating. Pallbearers will be among family.
In lieu of flowers, the family asks that donations be made to the Cherokee Children's Home.
Long House Funeral Home assisted with final arrangements