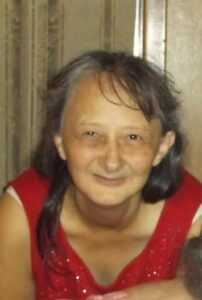 Louise Mabel Maney II, 60, of Cherokee, passed away unexpectedly on Friday, Nov. 8, 2019 at the Memorial Campus of Mission Hospitals in Asheville.
Louise was the daughter of the late Jesse Anderson Maney and surviving mother Louise M. Maney of Cherokee.  She was a member of the Rock Springs Baptist Church in Cherokee.  Louise had made her way through life by working as a clerk and a line inspector at the White Shield Company. She was proud of her brief military history with the U.S. Army although unforeseen circumstances caused a unexpected release from active duty.
Louise is survived by her son, Robert Allen Carty of Chapel Hill, Tenn.; brothers, Jerry lee Maney Sr. of Cherokee, Gregory Neal Maney of Roan Mtn., Tenn., Samuel Gerald Maney of Elizabethton, Tenn., Jesse Anderson Maney Jr. of Elizabethton, Tenn.; sisters, Rosa Lean Maney of Cherokee, Ann Marie Coggins of Virginia,  and Malissa Elaine Dover of Cherokee; live-in companion, Bruce Billstein of Cherokee; several nieces and nephews and great nieces and nephews; several aunts and uncles and Terri Duggar of Tennessee.
Louise was preceded in death by a daughter, Leann Carty and one sister, Jenny Fay Wilson.
Funeral service was held on Monday, Nov. 11 at Rock Springs Baptist Church with Pastor Greg Morgan officiating.
Long House Funeral Home assisted the family in the final arrangements.