By JONAH LOSSIAH
ONE FEATHER STAFF
Tommy dos Santos is a serial killer of only clowns. He is flipping the classic trope of horror on its head, and he is also an elaborate coping mechanism.
This is the protagonist of a new indie feature film called "Kill Giggles". It is the creation of Jaysen Buterin, who has been working on independent films for about 13 years. He's also lived with a severe fear for most of his life: a severe phobia of clowns.
After his son was born, he realized this might be issue as his boy grew up.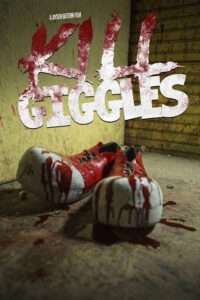 "I figured I had two choices," said Buterin.  "I either have a very well-rehearsed story about where his daddy disappeared to when I was actually locked in the trunk of the car crying. Or, I could try to get over this crippling case of coulrophobia."
Buterin says that he's been working on this idea for about four or five years now.
"I have always been scared of clowns but had always wondered why no one had ever killed them in the movie…I looked around and tried to find a movie where someone had sorted made the clowns the victims and couldn't find anything. And to me, just to have any kind of an original idea in any genre of independent filmmaking, let alone horror these days, was something I felt I had to jump on."
Though Buterin wrote and directed this film, he would be the first to say it wasn't all him. There are primarily three heads behind the operation: Buterin, Jesse Knight, and Jason Ledford. As is commonplace with indie filmmaking, each of them wore multiple hats in the process of creating this movie. Knight has the label of executive producer, director of photography and editor. Ledford was also an executive producer and the gaffer for the project.
Ledford is a member of the Eastern Band of Cherokee Indians and has been working in film for several years now. Though he is focused on indie film at the moment, he did have a small role in the Golden Globe-winning motion picture "Three Billboards Outside Ebbing, Missouri".
Knight is known for his cinematography and has been involved in movies such as "The Werewolf Hunters", "Hybrid", "The Orbs".
Buterin is a three-time Native American Indian Film Festival of the Southeast winner.
Ledford and Knight met each other in high school and became good friends in the 10th grade. They have worked together in film and other jobs for years. Knight met Buterin when they started playing in a band called the Malamondos. Eventually, Jason and Jaysen met each other through Knight, and they hit it off.
All three have aspired to make films throughout their lives, and when Buterin came to them with this idea, they were immediately on board.
This production was still significantly smaller than Hollywood blockbusters, but at $50,000 "Kill Giggles" has been a bigger budget than they had worked on in this capacity.
"Crawling into bed and knowing production was done, and just thinking about shooting 148 scenes over 19 days at 36 different locations. I mean, it's just madness," said Buterin.
Each of them says that it was also quite the learning process.
"A lot of what we learned was scheduling, fundraising for the movie, getting more investors involved, marketing," said Ledford.  "And of course, your small aspects of running a crew, building the crew, set design, props, everything. Being this is our first feature we've done independently, there were a few missteps here and there. For me personally, I've learned a tremendous amount about the business side of this."
This movie has been a significant priority for everyone involved, but the trio also shares an overarching goal.
"The way we've looked at it here is, we've started our marketing campaign and be pushing the last year, three North Carolina directors coming together to help put it [the state] back on the map," said Ledford.
"There are amazing film communities all over the state. Asheville, Asheboro, Greensboro, Triad, Raleigh, Durham, Wilmington, everyone's got it, but they don't know about it," said Buterin.
The team have recently released a new trailer for the film, and they are preparing for the next step in the process. They currently have a rough cut of the movie and are in the post-production and editing stage.
"Editing is such a solitary thing. I was sort of uncomfortable having somebody else in the room looking over my shoulder, but Buterin is always wonderful. Me and him together can create something really quickly on the edit timeline that works really well," said Knight.
They are planning on using streaming services to spread this movie as far as they can.
"We have a distributor lined up already, Avail films out of California is going to be repping the film for us. They're excited and kind of chopping at the bit. So, as soon as we've got it, they're ready to go…We want to go worldwide with this," said Buterin.
"Kill Giggles" has done many things for this group of friends already. It has brought them closer to each other, and it has also developed a network that will help them with future projects.
"A stepping stone. Whatever size that stepping stone is, I have no way to say. For me, it's already working on a certain kind of level in getting us out there," said Knight.
Ledford says that there is no set timeline for the production, but the hope is to have it ready or close to it in the next six months. Updates and trailers can be found at the "Kill Giggles" Facebook page, https://www.facebook.com/KillGiggles.
Buterin doesn't want to measure expectations for the film, but he has high hopes for this project.
"This is what we want to do. We want to be able to take this to the next level. I'm really hoping that Kill Giggles will turn that spotlight back on North Carolina indie film."