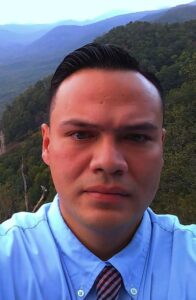 Jonathan P. Tahquette Jr., 36, born April 26,1983, of Cherokee, passed away unexpectedly on Wednesday, Nov. 6, 2019. Jonathan will be greeted at Heaven's gate by his father, Jonathan P. Tahquette Sr. and grandmother Frances Bobie Parker.
Jonathan is survived by his mother, Marie Junaluska; his beloved children, Jonathan Perry Tahquette III, Dezerae Rose Tahquette, Meadow Lynn Tahquette, and Kaitlyn Olivia Tahquette; grandmother, Dinah Crowe; one sister, Candy Lossiah (Joe); one special friend, Sally Rodgers; uncles, Jerry Parker (Connie), John Parker, and Bentley Tahquette; aunts, Francine Watty (Charlie) and Diane Crowe; and numerous cousins and nephews.
He was a proud member of The Church of Jesus Christ of Latter Day Saints. Jonathan will be remembered for his passion for fishing and drawing. He enjoyed exploring the outdoors and especially hunting mushrooms. Jonathan loved animals, cooking, playing guitar, and singing but mostly, he loved spending time with his family and doing activities with them.
Visitation will be at The Church of Jesus Christ of Latter Day Saints on Tuesday, Nov. 12 beginning at 6 p.m. Funeral services will follow on Wednesday, Nov. 13 at 12 p.m.
Burial will follow services at Bradley Family Cemetery on Hoot Owl Cove Rd.
Pallbearers will be Jaylen Evans, Brock Parker, Cameron Parker, Isaiah Evans, Bodie Parker, Zachariah Lossiah, Brandon Parker, John Henry Gloyne, and Johnny Hicks.
Long House Funeral Home assisted with arrangements