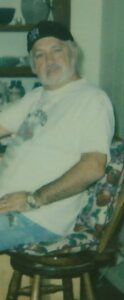 Charles W. Reed, 69, of Sevierville, Tenn., passed away at his residence after battling a long-term illness. Born in Cherokee, he had made his home in Sevierville for the last 20 years. Charles was a woodcarver by trade and enjoyed spending much of his time doing this.
He is preceded in death by his parents, Wilson Reed and Francis "Dale" Reed; son, Gary Lee Reed;  brother, Allen Reed; and daughter in law, Jerri Lynn Smith-Reed.
Charles is survived by his sons, Danny Lee Reed, Charles Lee Reed, Anthony Lee Reed, Jimmy Dale Lee Reed, Johnny Lee Reed, all of Tennessee; one daughter, Tammy Lee Reed of Clyde; brothers, Freddie, Reed, Mike Reed, and Tommy Reed; and sisters, Florence Reed and Bonnie Reed. He also leaves behind several aunts and uncles, and two ex-wives Cindy Tramper and Debbie Smith. In addition, he is survived by a number of grandchildren and his beloved chihuahua, Squeaky.
Viewing and visitation for Charles began on Thursday, Nov. 7 at his brother, Freddy Reed's residence on Mink Branch in Cherokee until Saturday, Nov. 9.  Funeral services will begin at 2 p.m. on Saturday , Nov. 9 with Ben Reed officiating. Burial will follow at Reed Family Cemetery.
Long House Funeral Home assisted with arrangements