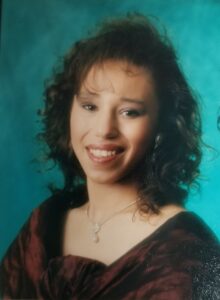 Dusty Lyn Jones-Smith, 44, of Cherokee, passed away on Tuesday, Oct. 15, 2019 at her residence. She was a beloved daughter, sister, mother and friend. She was currently employed with the Vocational Opportunities of Cherokee Program of the Eastern Band of Cherokee Indians.
She is preceded in death by her husband, TJ Smith; one son, Joshua Daniel Smith; and her grandparents William L. Jones and Martha George, Aunt Nancy "Jim" Taylor.
She is survived by her parents, Kay Jones and her companion Sam, William (Jean) Jones Jr.; children she greatly loved, Jacob Colby Smith and Dustin Thomas Smith; one grandchild, Jariyah Lyn Smith; sisters, Stephanie Dawn Jones and Rochelle "Shelly" Jones; brother, William R. Jones; aunts, Tammy Lambert, Martha "Sissy" French, Sherry Jones; uncles, Steve Lambert, Mernie Taylor and his daughter Kitty Taylor; grandmother, Phyllis Lambert; grandfather, Sam Lambert; nieces, Gabby Jones, Bella Jones; and nephew, Gaige Jones. She leaves behind many friends and family that loved her.
Her burial was on Saturday, Oct. 19 at Bethel Cemetery which is located on Union Hill Rd off of Old Number 4 Road.
Long House Funeral Home assisted with arrangements