By JONAH LOSSIAH
ONE FEATHER STAFF
Jasper Thomas Garrett Jr. sat in testing at United States Navy Boot Camp when he heard a familiar sound. It was something that he had learned from his father while growing up and was now about to change his life.
Morse code.
He caught the message 'Don't Volunteer,' and then carried on with his testing. At the end, they were all asked if anyone had heard a message. Three raised their hands, including Garrett. The Master Chief requested they stay behind and ask them what they had heard. Only Garrett and one other correctly recalled the code.
This moment decided his future in the military. The year was 1966, in the middle of the Vietnam conflict.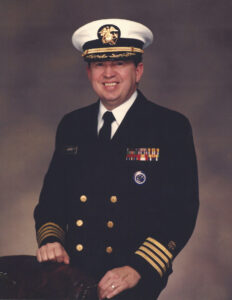 Once they realized Garrett's talent for coding, they brought him to a special office to volunteer for Navy Seal training. He heard nothing for about two weeks, and then received orders to attend survival training on an island off the coast of San Diego.
The next thing he was asked to do was attend 'Top-Secret Crypto School' and trained to become a communicator. Among the 360 or so men in the testing group, less than 20 were picked to go to this extra training. He was sent to Little River in Virginia for this.
Something that made Garrett unique through this process was his Cherokee heritage. When he moved to the field, they tasked him with creating Cherokee specific codes with two other Cherokee men in the Navy. The other two were both from Oklahoma, and once they got passed a few of the differences in their vernacular, they were able to coordinate using the Cherokee names for plants.
This was poetic, given Garrett's past. As a junior in high school and a boy fascinated by biology, he began working with Cherokee medicine men. He studied plants, medicines, and culture for years with different people. He started learning with Tom Underwood and worked with the Cherokee Historical Society in 1960.
Garrett always kept aspects of his culture with him. During his four years in the Navy, something that never left him was his medicine bag. In that bag, he carried an arrowhead that his grandfather gave him and old Cherokee tobacco, among other things.
Due to his position in the Navy, Garrett found himself on the move quite a bit. Primarily he saw time in the Canary Islands and Bermuda. He was lucky enough not to see face-to-face combat. During much of his service he was coding, decoding, and tracking submarine movements.
Garrett left the Navy without going to Officers' Candidate School as he originally planned. With Veteran's Tuition Assistance and scholarships, he earned a two-year Associate of Science at Walters State College in Tennessee. He accepted a job as a Safety Manager with ENKA in Lowland Tennessee and earned a master's degree and a doctorate in public health at the University of Tennessee. He also studied rehabilitation/disability counseling and environmental health in 1979.
In 1980, Garrett attended training as a commissioned officer in the U.S. Public Health Service and worked with Indian Health Service before retiring in 1997. At the rank of Captain, he received 21 awards, commendations, and citations for distinguished service. He also received three Congressional Awards for assignments and meritorious service and special recognition of the Jack Whitecrow Award by the National Indian Health Board. With over 120 recognitions and citations, something Garrett will never forget is when he met President Jimmy Carter. He also worked with Jake Whitecrow and Admiral Bob Marsland to establish reimbursement funding to tribes for Medicaid/Medicare that eventually totaled over $200 million to tribal programs.
Garrett's main goal was to do everything with respect. For those he worked with, for those he protected, and especially for his culture. He is proud of the service he has offered and sincerely appreciates all the people that taught him the true ways of life on his journey.