By SCOTT MCKIE B.P.
ONE FEATHER STAFF
It's a cool late summer morning, and I caught up with Miranda Stamper working out at the Cherokee Life Center – a staple activity in her life.  An athlete to the core, she is an example of fitness for everyone, young and old, in the Eastern Band of Cherokee Indians (EBCI).
"My personal goals are to stay  fit and stay healthy for my family and my kids – not just for my born kids, but for my kids at the Cherokee Elementary School, Middle School, and High School," said Stamper, an EBCI tribal member from the Painttown Community, who is now in her twelfth year as a physical education and health teacher at Cherokee Central Schools.  "I just want to be a good example for them health-wise.  I've got a full-time job and I've got two kids who are very active as well, but I still find time for myself; find time to run, to swim, to bike, to keep myself healthy so I can be there for them now and 10, 20, 30 years from now."
Stamper is a very competitive person and uses that spirit to keep her driving forward in her fitness.  A two-time NCHSAA discus throw state champion (2000, 2001), she recently won the Iron Warrior Contest – an obstacle-style race involving tire flips, a weighted yoke carry, a truck pull, and more – for the fifth consecutive time.  The event is hosted by the Mississippi Band of Choctaw Indians and held during their annual Choctaw Fair.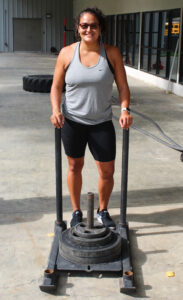 "The competition is what drives me," she said.  "I really don't have much self-motivation, but I know that if I sign up for something, that helps me to have an end-goal and to push for it and do what I need to do to get ready."
She said her students keep up with her various contests.  "If I'm doing an arm-wrestling competition, a weightlifting competition, a triathlon, or a 5K race, they know what I'm doing.  So, when I come back they want to see the belt, the trophy, or the medals.  And, I bring them in and show them.  For the local races, several of the students will come out and do it with us."
Her athletic endeavors vary widely.  "The things I do are very different so it's specific training for each thing.  My favorite would have to be the Iron Warrior training because it's more weight lifting and short sprint cardio.  But, I know that in order to be healthy I need the triathlon training – the swim, bike, and run.  That keeps my weight down.  That keeps my heart healthy."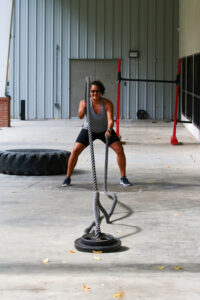 There isn't much that Stamper won't try athletically.  "Everybody's telling me no, but I would love to box and do the Tough Woman competitions.  That's something I've wanted to do forever.  That is something I've been talking about for a couple of years now that I would like to try."
Stamper encourages everyone to start on their personal fitness journey.  "The hardest thing is starting, and that may be, for some people, just walking.  For some people, that may be jogging.  Some people might set a goal of a race and then you're locked into something that you have a goal that you're trying to get to."
She said that people's goals will vary and that any goal towards fitness is an awesome goal for that individual.  "My advice would be just to start and stick with it every day.  The days you don't want to are the best days, and just find something to do every single day."
So, I would encourage everyone to take Miranda's lead and do something towards your fitness today.  Start today, and you'll feel better tomorrow – at least until you start tire flips.