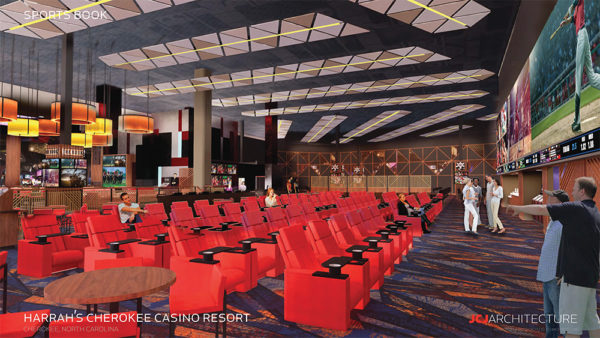 By SCOTT MCKIE B.P.
ONE FEATHER STAFF
One business day after N.C. Governor Roy Cooper signed legislation making sports betting legal for the Eastern Band of Cherokee Indians, Harrah's Cherokee Casinos officials released their plans to get the ball rolling on that enterprise of the Tribe.
"This is an exciting time," Brooks Robinson, Harrah's Cherokee Casinos regional senior vice president and general manager, said on Monday, July 29.  "We continuously work to offer new experiences and opportunities to our customers and are confident that our new sportsbook will be an added delight for our guests and sports fans."
Gov. Cooper signed North Carolina Senate Bill 154 into law on Friday, July 26.  The bill, introduced in February by State Sen. Jim Davis (R-50th District), passed in the State House 90-27 on July 15.  The bill previously passed the House Senate 43-7 on April 9.
Sportsbooks are set to open at both Harrah's Cherokee Casino Resort in Cherokee and Harrah's Cherokee Valley River Casino & Hotel in Murphy and both will be known as The Book and will be open later this year.
Harrah's Cherokee Casinos officials related that development of The Book has begun at both locations.  The one at Harrah's Cherokee Casino Resort will open "in a temporary location in what is currently Sound Bytes at UltraStar Multi-tainment Center", and the one at Valley River will be placed near their promotions stage.
The bill amends G.S. 14-292.2 to include sports and horse race wagering as Class III games that may be "lawfully conducted" on EBCI tribal lands.  According to the bill, sports wagering is "the placing of wagers on the outcome of professional and collegiate sports contests".  The bill describes horse race wagering as "fixed odds or pari-mutual wagering on thoroughbred, harness, or other racing of horses, including simulcasting and off-track betting".  Both sections include this wording, "the wager shall be deemed to occur where it is initiated and received, all of which must occur on Indian lands within the state lawfully permitted to conduct Class III gaming activities."