By ROBERT JUMPER
ONE FEATHER EDITOR
EBCI Public Health & Human Services Secretary Vickie Bradley presented the 2018 Eastern Band of Cherokee Indians Tribal Health Assessment (THA), which came out last month, at the Health Board meeting held on Wednesday, July 17.  As part of her slide presentation to the Board, she explained that the THA is performed every five years as part of the tribal health improvement cycle.
The 127-page document "identifies key health issues through data collection and analysis". It is created through a collaboration of EBCI Public Health and Human Services (PHHS), Cherokee Indian Hospital (CIHA), the EBCI Agriculture and Natural Resources Division, Western North Carolina Health Network, and the United Southeast Tribes (USET) Epidemiology Center. It is a comprehensive work on the state of Eastern Band Cherokee Indian public health. In addition to these entities, PHHS engages the Qualla Boundary community in surveys and "listening sessions" to get community input. The assessment is a requirement of Public Health accreditation.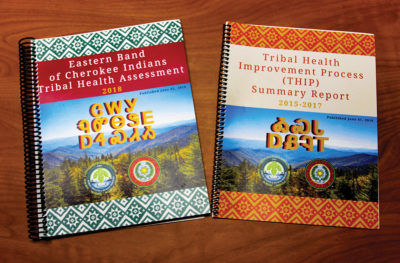 The report found, based on the data, the top ten health priority issues of EBCI are as follows: substance use and related issues, violence and abuse, diabetes, Hepatitis C, heart disease, stress, tobacco use, depression, food insecurity, and sexually transmitted infections and teen pregnancy.
Secretary Bradley highlighted significant findings in the report. In the Tribe's five-county service area, the death rate from "unintentional poisoning" was almost double that of North Carolina as a state and, according to the community surveys that PHHS completed with the community, "Addiction (personal, friend, or family member) was among the top three negative impacts on one-fourth of community members' quality of life."
Reported domestic violence and sexual assault of American Indian/Alaska Natives decreased in the five-county area between 2012 to 2016, but the rates are still triple that of the state. In a two-and-a-half-year period (2015 to 2018) there were allegations of 25 incidents of elder abuse, 129 of elder neglect, and 48 of elder exploitation in the Eastern Band of Cherokee Indians.
Bradley reported progress in the fight against diabetes, noting a decline of 2 percent from 2013 (27 percent) to 2015 (25 percent). Still, the diabetes death rate among American Indian/Alaska Natives among the five-county area was about six times higher than the state average.
Bradley stated, "The number of persons with Hepatitis C in the EBCI more than doubled between 2011-2015. The number decreased slightly in 2016-2017."
She reported that heart disease is the leading cause of death for EBCI members, accounting for 21 percent of all deaths from 2012 to 2014. Over 40 percent of these deaths were persons 65-years-old or less.
Bradley reported that stress is a new and significant factor that PHHS is addressing. The community surveys indicate that approximately 33 percent of community members felt that stress is one of their biggest problems. She said that chronic stress could be a contributing factor to other health issues.
Tobacco use continues to be a challenge. Secretary Bradley stated that EBCI community tobacco use, according to statistics, is significantly high, even among pregnant women and high school students. It is showing signs of decreasing. For example, pregnant women's use dropped from 40 percent in 2012 to over 25 percent in 2016. The study includes all forms of tobacco use.
Depression is also a critical health concern reported. Suicide was the seventh-highest cause of death among EBCI members between 2010 and 2014. In 2017, nearly 20 percent of community members reported some form of depression is a concern, and in 2016, about 12 percent of elders had been diagnosed with depression at one time or another.
"Food Insecurity" was defined as "Disruption of food intake or eating patterns due to lack of money or other resources." Of those who have responded to community surveys, nearly 50 percent said it was at least somewhat challenging to get affordable produce. Almost 25 percent said that they went hungry at least once in the past year, and 11 percent of the elders ate fewer than two meals per day in 2016.
Speaking to sexually transmitted infections and teen pregnancy, Secretary Bradley related, "Chlamydia and gonorrhea rates at EBCI have trended up between 2013 and 2016. Syphilis rates decreased in 2016. American Indian/Alaska Native teen pregnancy rates in the five-county region are double the total rate for all races/ethnicities. EBCI high school students reported that 47 percent have been sexually active (ever), almost half did not use condoms, and over one-quarter used no birth control."
PHHS is sharing this data with the community and will use this data to create a new Tribal Health Improvement Process (THIP) to attack the issues found in the data of the EBCI 2018 Tribal Health Assessment. PHHS led the first Tribal Health Improvement Process from 2015 to 2017. It is used as a guiding document, a strategy, to address and combat the health concerns of the Tribe. Community members were invited to help in the improvement process, and Secretary Bradley provided the following email for contact concerning the THIP: thip@nc-cherokee.com.
Secretary Bradley also gave some follow-up and explanation to a news report from another media outlet regarding the status of Tsali Care. "I know the WLOS news story about a month ago on Tsali Care Center being on the Special Focus Facility Candidate list alarmed a number of people in the community. I want to give an update and explain that a little bit. The Special Focus Facility list is a quality improvement initiative from CMS out of Atlanta, and it is an opportunity to improve the quality of care in facilities. Let me make it very clear; we were not on the Special Focus Facility list. We are, however, on the Special Focus Facility Candidate list, which means that we could rotate on to the Special Focus list. So, how do you get on the Candidate list? Long term care centers are rated on a five-star rating. A five-star rating is a cumulative total of three years of surveys. And so, our last three years of surveys…last year 2018 was a good survey. We are in 100 percent compliance with all standards. There are over 700 standards that Tsali Care is surveyed on annually. However, our 2017 survey was less than what we wanted it to be. It was the worst survey that we have ever had. Now, why is it that we had more deficiencies because of our staffing? Since 2015, we have come to this Board, and we have come to Tribal Council, and we have (voiced our concerns) about staffing. And then when the Tribe went on a hiring freeze, it crippled our facility. At one point, we were only at 49 percent staffed, and all our staffing ratios came from agency staffing. And then a year ago, Chief Sneed implemented the process that we convert our employees to CIHA employees so that we could avoid hiring freezes and we could get people onboard faster. Since that time, we have improved our staffing ratios. However, that three-year cumulative total, your surveys are weighted 50 percent, 33.5 percent, and 16.5 percent, so that 2017 survey will continue to be on our cumulative total for one more year before it rotates off. So, what have we done to remove ourselves from the Candidate list?"
Secretary Bradley went on to say that they have done a plan of correction to address ratios of low staffing on weekends for Registered Nurses. She noted that Tsali Care Center is staffed higher than any facility in western North Carolina, but they still want to improve. PHHS has also put in a plan of correction to mitigate high risk or any other risk. They are working with the North Carolina Quality Assurance Agency and performing a mock survey using a mock survey team in August.
Secretary Bradley stated, "We have quality of care at Tsali. Without a doubt, your folks are receiving quality of care."