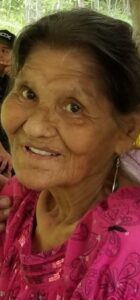 Alice Mae (Wolfe) Forney, 67, of the Big Cove Community and resided in Sylva with her husband Marvin "Buster" Forney of 20 years, went home to be with the Lord on Friday, July 5, 2019.
She was a member of the Eastern Band of Cherokee Indians and was a member of Macedonia Baptist Church but attended the Big Cove Pentecostal Church as well. She enjoyed spending time with her family, going on spontaneous trips, and playing her favorite games solitaire, sorry and centipede.
She is preceded in death by her parents, Eli Wolfe and Irene (Pheasant) Wolfe; one brother, William "Bill" Wolfe; two sisters, Adonna Wolfe, Marian Walkingstick; and one infant son, Richard "Billy" Taylor.
She is survived by two daughters, Sherry Wachacha, Tracy (Antonio) Ramos; three sisters, Mary (Ernest) Lambert, Pearl Wolfe, Berdina Wolfe-Wachacha; two brothers, Glenn Wolfe, Robert (Nita) Wolfe; 10 grandchildren, Natisha (Santiago "Chago") Guerrero, Casper (Carandee) Wolfe, Kelley Walkingstick, Polly (Ryan) Watty, Reno Wachacha, Isabella Walkingstick, Michael Wolfe, Leticia (Julio) Castillo, Jovita Guerrero, Selena Guerrero; 22 great grandchildren; and many nieces and nephews.
Services will be at the Big Cove Pentecostal Church with a visitation starting at 6 p.m. Monday, July 8 where the family will receive friends and will last till the hour of service at 2 p.m. on Tuesday, July 9, 2019 with Pastor Ann French and Pastor Noah Crowe officiating services.  A burial will immediately follow on Calhoun Hill at the Wolfe Cemetery with the pallbearers being Casper Wolfe, Michael Wolfe, Francis Walkingstick, Henry Long, Ryan Walkingstick, and Zakarias Perez.
Long House Funeral Home assisted in the final arrangements.