INDIANAPOLIS, Ind. – James "Bopper" Johnson, a member of the Eastern Band of Cherokee Indians, participated in the 8th Annual 24 Indianapolis on June 28-29.  The event is a 24-hour non-competitive cycling and walking event that benefits local and national beneficiaries/recipients dedicated to providing cancer navigation and survivorship programs.  He participated as part of the St. Franciscan Cancer Crime Fighters team.
Most of the event was held at Butler University and featured a 3-mile cycling and 1.5 mile walking course.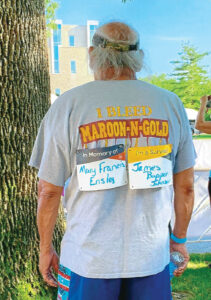 "These efforts greatly assist and support those facing a cancer diagnosis spend their days on a grueling, exhausting, and difficult course," said Johnson who noted he was asked to participate in February through a program called Moving Beyond (thriving after treatment).  He credits Kim Ziner, program educator; Shelly Ferguson, physical trainer; and Kyle Stepler, education and emotional support; as helping him in his cancer journey.
"Without this program and the support of these individuals, I would not be as healthy and physically strong since I started my journey with cancer," said Johnson.  "The Moving Beyond program is designed to help you thrive and live a healthy life.  The living well of the program is to give you knowledge of your well-being emotionally, physically, socially, and spiritually.  You learn to practice exercise, relaxation, and healthy meal planning preparation."
Johnson said he wanted to do something to give back "to a program which has assisted me to become physically stronger due to the cancer taking a toll on my body" and also to represent his Tribe.
"I sent letters out to individuals who I thought would donate to such a worthy cause," he commented.  "I received a lot of donations from individuals from the Cherokee Reservation.  I would like to recognize these individuals by saying, 'thank you for your support': Charles 'Bear' and Verna Johnson, Carolyn Riggle, Virginia Johnson, Jean Jones, Doris Johnson, Hrair Johnson, Misty Johnson, Mika Johnson, Peaches Squirrel, Maddie Saloli, Rodney Johnson, Aura Johnson, Aia Johnson, Raven Johnson, Hoss Jumper, Myra Cloer, and Gabe and Sarah Wolfe."
Johnson added, "The fundraiser event was a true success.  The goal was to raise a quarter of a million dollars, and, as a group effort, we exceeded the goal!"
– Special to the One Feather