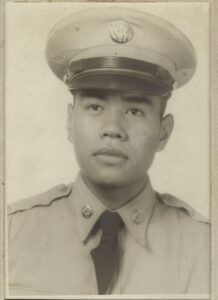 Sam Saunooke, 80, of the Birdtown Community in Cherokee, passed away on May 11, 2019 while recovering from a period of illness at the Tsali Care Center in Cherokee.
Sam was the son of the late Stillwell Saunooke and Martha (Long) Owle of Cherokee. Sam was a member of the Cherokee Baptist Church and was a proud veteran of the United States Army. He worked in public transportation as a bus driver to support his family during his career days in the state of California.  Sam was also the loving husband to his wife Clara (Bird) Saunooke for more than 50 years.  Sam was a loving husband, father, and grandfather.  He will be missed by those that knew him.
Along with his wife, Sam is survived by his sons, Daniel Saunooke of Cherokee, and David Saunooke (wife Terri) of Anaheim, Calif.; three grandchildren, David Joseph Saunooke, Brenna Marie Saunooke and Peyton Marie Saunooke all of California; two cousins, Joyce Bradley and Jackie Bradley of Cherokee; and many friends from the church community.
Along with his parents, Sam was preceded in death by a daughter, Lila Saunooke.
A public viewing and visitation is planned from 6 p.m. to 9 p.m. on Thursday, May 16 in the Chapel of Long House Funeral Home in Cherokee with a funeral following in the Chapel the next morning Friday, May 17 at 11 a.m.  The services will be officiated by Rev. Percy Cunningham of the Cherokee Baptist Church and Rev. James "Bo" Parris of the Cherokee Baptist Missionary Church of the Big Cove Community of Cherokee.  Military Honors will be rendered at the Chapel in recognition of Sam's service.  A private graveside service will follow in the Partridge Cemetery on Bird Hill Rd. as requested by the family.  Flowers are welcome. Pall bearers will be among the Steve Youngdeer, American Legion Post 143 Honor Guard.
Long House Funeral Home assisted the family in the arrangements.