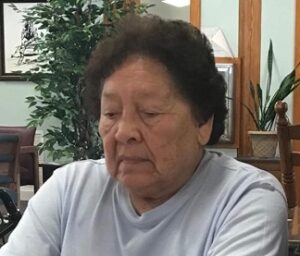 Nancy Audena Smith, 80, of Cherokee, passed away on Saturday, Feb. 23, 2019, at the Cherokee Indian Hospital.
She was a lifelong resident of the Cherokee community and the Yellowhill Baptist Church.  Mrs. Smith worked at the Cherokee Elementary School as a teacher's aid for 35 years.  She was also a part-time employee of Harrah's Cherokee Casino Resort.   After her retirement from the school, she became a full-time homemaker.  Nancy was active in the Cherokee Chapter of NAIWA for many years.  She enjoyed her friendships and community service and often traveled with them.
She is survived by her husband, Kenneth "Feet" Smith; one daughter, Pamela Smith; one granddaughter, Sydney Bird; three sisters, Charlene Cabe, Joan S. Henry and Rebecca Bridges; and several nieces and nephews.
Nancy was preceded in death by her son, David Edward Smith; her mother, Elma Arch Smith; her father, Charles Smith; sisters, Fancheon Elders, Osceola Smith, Wanda Lee Bradley, Linda Sue Raby; and one brother, Charles Delbert Smith.
Visitiation will be held on Monday, Feb. 25 from 6 p.m. to 12 a.m. at the Yellowhill Baptist Church.  Funeral services will be held on Tuesday, Feb. 26 beginning at 1 p.m. at the Yellowhill Baptist Church.  Pastors James "Bo" Parris and Foreman Bradley will officiate.  Burial services will follow at graveside on Old River Road.  Pall bearers will be her nephews, Dean Bradley, Bob Bradley, Tony Cabe, Tince Cabe, Tommy Cabe, and James Raby.
Long House Funeral Home is assisting the family with the final arrangements.