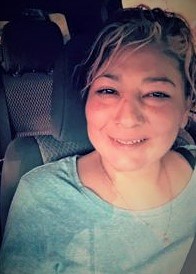 Mary Rodriguez Lambert, 47, of Cherokee, passed away Sunday, Feb. 17, 2019 at UNC Hospital in Chapel Hill.
She is survived by her husband, Joseph Lambert; her children, Anthony Kyle Smith, Tyler Edward Toineeta, and Sierra Storm Lavonne Rodriguez Davis; two grandchildren, Mason Kade White II and Alex Johnson Rodriguez-Davis; one brother, Jose Orlando Rodriguez; one sister, Michelle Lavonne Rodriguez; one aunt, Gwendolyn Wildcatt; and nephews, Kenny Cucumber and Mason Kade White I.
Mary was preceded in death by her parents, David Johnson Catt and Mary Lavonne Catt.
Visitation will be held on Thursday, Feb. 21 beginning at 6 p.m. at the Wrights Creek Baptist Church where the body will remain until the hour of service on Friday at 11 a.m.  Pastors Dan Conseen and Noah Crowe will officiate.  Burial will follow at the Leauna Crowe Littlejohn Cemetery.  Pallbearers will be Ryan Sampson, Jeff Girty, Mason Kade White I, Michael Bradley, Cory Walkingstick, and Cody Gloyne.
Long House Funeral Home is assisting the Lambert family.