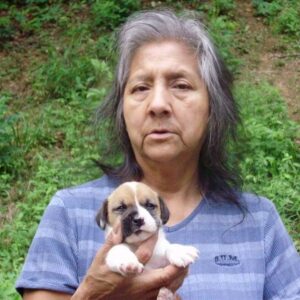 Lucille Cucumber, 73, of Cherokee, passed away on Monday, Feb. 11, 2019 after battling a terminal illness.
Lucille was a fluent speaker of the Cherokee language and was a fan of the UNC Tarheels and Cherokee Braves.  She enjoyed gathering greens, mushrooms, and visiting her friends.
She is survived by her children, Clement Cucumber Jr., Lisa Youngdeer (Bopper Youngdeer), and Tammy Cucumber (fiance' Boo Davis); nine grandchildren, Jukas Arch, Kenny Rodriguez, Devon Cucumber, Chad Cucumber, Nickolas Cucumber, Eva Gagama, Danielle Toineeta, Kyle Pete, and Noah Pete; four great grandchildren; special friend, Debo Toineeta; and her pet baby girl (Chihuahua).
She was preceded in death by her husband, Clement Cucumber Sr.; her parents, Henry Calhoun and Amanda Driver Calhoun; brothers, Robert Lee Calhoun and John Calhoun; sisters, Annie Marie Swayney and Stacy Lambert.
Visitation will be held on Thursday, Feb. 14 from 6 p.m. until 8 p.m. at Long House Funeral Home.  Funeral services will be held on Friday, Feb. 15 at 1 p.m. at Long House Funeral Home.  Pastor James "Bo" Parris and Joe Wolfe will officiate.  Burial will follow at the Clement Cucumber Cemetery.  Pallbearers will be among family and friends.