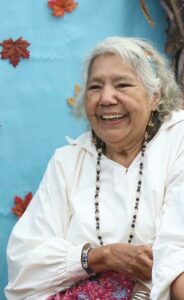 Joann "Jobee" S. Kalonaheskie, 79, of the Wolftown Community in Cherokee, passed away Saturday, Feb. 9 at Tsali Care Center after an extended illness.
She was a member of Wrights Creek Baptist Church.
She is survived by her children, Wanda Kalonaheskie, David Kalonaheskie (Luchene), Kathryn Kalonaheskie, and Jerry D. Sampson (Doris); grandchildren, Billy Wachacha, Jack Wachacha, Joanna Kalonaheskie, John Perry Sampson, Dustin Sampson, Jordan Sampson, Cherice Huskey Parker, Chase Kalonaheskie, Zane Kalonaheskie, Cassidy Kalonaheskie, Stephanie Maney, and Donnie Maney; 17 great grandchildren, and two great great grandchildren; one sister, Gwen Wildcatt; and a special niece, Stacy S. Ledford.
Jobee was preceded in death by her husband, David J. Kalonaheskie; her mother, Leauna Crowe Littlejohn; son, Sgt. John Earl Sampson; brother, Duffy Sampson; sisters, Lily Wolfe, Elsie Martin, Micky Sampson, Tunnie Catt, and Wanda Maney; and granddaughter, Maverick Sampson.
Visitation will be held on Wednesday, Feb. 13 from 5 p.m. until 8 p.m. at Long House Funeral Home.  Funeral services will be held on Thursday, Feb. 14 at 2 p.m.  Pastors Dan Conseen and Foreman Bradley will officiate.  Burial will follow at the Leauna Crowe Littlejohn Cemetery.  Pallbearers will be Billy Wachacha, Dustin Sampson, Jack Wachacha, Chase Kalonaheskie, John Perry Sampson, Jordan Sampson, and other grandsons and nephews.