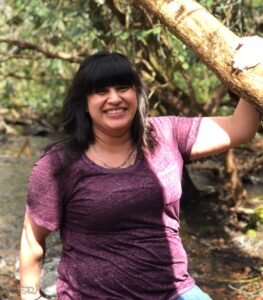 Jillian Monike Swimmer, 31, of Cherokee, went home to be with the Lord Monday, June 25, 2018. A native of Cherokee, she was the daughter of Melvena Swimmer of Cherokee.
She is preceded in death by an uncle, Jamison "Bear" French; grandpa, Elliott "Dump" French; and uncles, Mac Swimmer and Herbert Swimmer.
In addition to her mother, she is also survived by her daughters, Mulisha (Mae) Swimmer and Niketa (Kitty) Swimmer; a brother, Rain Swimmer-Jackson; grandmother, Marilyn Swimmer; great grandmother, Amanda Swimmer; "her pops", Larry Blythe; uncles Elliott (Seymour) and wife Stephanie French, George French, Randy French; best friend in the world, Chelsea Martinez; favorite aunts and cousins, Juanita, Eddie, Stephan and Kyle Swimmer who accepted unconditionally, and never judged.
Jillian was member of Acquoni Baptist Chapel and a friend to all that knew her.  She was full of life and a very beautiful young lady with a contagious laugh.
Funeral Services will be held 2pm on Thursday, June 28 at Acquoni Baptist Chapel. Revs. Ed Kilgore and Jim Parks will officiate with burial in the Sequoyah Family Cemetery.
The family will receive friends from 5 – 11pm Wednesday at the Church.
Pallbearers will be Manuel Watty Jr., Randy French, Tavi Rivera, John Cameron, Julius Taylor, Sam Blythe, and Mario Esquivel.
All singers are invited.