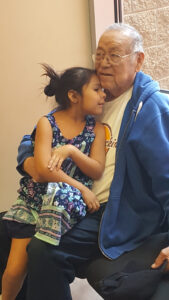 Henry Queen, 83, of Cherokee, passed away on Thursday, June 21, 2018 at his residence after a long illness.
Henry was a retired veteran of the U.S. Army.  He was a loyal Cherokee Braves fan.  He loved to play stickball for the Wolfetown Community and absolutely loved watching his grandbabies playing sports!  He loved his Momma-Doo!
He is survived by his wife, Edith Stamper Queen of the home; his children, Lady Bird Powell of Cherokee, Joseph "Buddy" Johnson (wife Bobbi Jo) of Cherokee, Sharon Owle (husband Lloyd) of Cherokee, Beth Johnson (companion Ike) of Cherokee, Lou Johnson of Cherokee, Cynthia "Stinker" Toineeta of Cherokee, and Imelda Sequoyah Barco (husband Tomas); 23 grandchildren; 30 great grandchildren; one great great grandchild; one sister, Myrtle Bird of Cherokee; special grandsons, John Martin, "Moose" Littlejohn, Genesis Ensley Sequoyah Barco, and Champ Emerson Sequoyah, all of Cherokee; special granddaughters, Felicia Johnson, Tiarra Toineeta, and his Princess Emme Barco; very special son, Flint Griffin of Cherokee; special nephew, Jonah Wolfe and special grandson June Wolfe both of Cherokee; special brothers, Ned and Ray Stamper, Kenneth "Gudger" Smith, all of Cherokee; and many more nephews and nieces.
Henry was preceded in death by his parents, Jasper Queen and Luzene Reed Queen; one son, Henry "Scooter" Littlejohn; one daughter, Annie "Lil Ann" Cucumber; brothers, Blane, Tom, Lewis, and Jesse Queen all of Cherokee; sisters, Eva Wolfe, Kina Littlejohn, Annie Powell, and Minnie Smith, all of Cherokee; and one great granddaughter, Aubrey Littlejohn.
Funeral services were held on Sunday, June 24 at Rock Springs Baptist Church.  Pastors Greg Morgan and James "Bo" Parris officiated.  Burial followed at the Yellowhill Veterans Cemetery with military honors provided by the Steve Youngdeer American Legion Post 143.  Pallbearers were John Martin, Henry "Moose" Littlejohn, Tomas "Lito" Barco, William Bird, John Bird, Flint Griffin, and Andrew Griffin.
Long House Funeral Home assisted the Queen family.