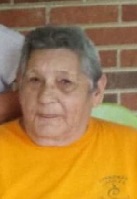 Sadie Sue Jackson, 75, of Whittier, passed away on Monday, March 26, 2018 at Mission Hospital in Asheville.
She is survived by her children, Charlene Jackson Otter and Bill Jackson; grandchildren, Paige Jackson Stamper, Me-Li Jackson, Michael Otter, Kerry Hawk Otter; two great grandchildren, Sean Stamper, and Penelope Stamper; sisters, Barbara Robie (husband Barry) of Cherokee and Jean Bryant of Charleston, SC; special friend, Rachel Morgan; and several nieces and nephews also survive.
Sadie was preceded in death by her parents, Jack C. Jackson and Mary Queen Jackson; one son, Charles Dennis Green; brothers, Walter, Boyd, Johnny, and Jack Jackson; and sisters, Naomi Kanott, Lucille "Mackie" Abrams, and Edith Bradley.
Visitation will be held on Thursday, March 29 from 5 – 11pm at the Acquoni Baptist Church.  Funeral services will be held on Friday, March 30 at 1pm at the Acquoni Baptist Church.  Pastors Jim Parks and James "Bo" Parris will officiate.  Burial will follow at the Jackson Cemetery.
Long House Funeral Home is assisting the Jackson family.