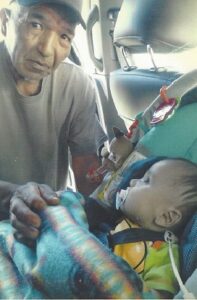 William Theodore Taylor, 60, of Cherokee, passed away unexpectedly on Sunday, March 11, 2018.
He had an honorable discharge from the U.S. Air Force.  He was formerly employed by the Cherokee's, the Cherokee Casino, and the Grand Hotel.  He was an outdoorsman.  He fished, enjoyed watching racing, and also enjoyed playing fast pitch soft ball and any kind of sports.
He is survived by his mother, Jane Lossiah Taylor; two brothers, Jeremiah Taylor and Dennis Taylor, both of the home; one sister, Cynthia A. Meuse of Cherokee; two nephews; six nieces; one great nephew; one aunt, Dolly Taylor; great aunts, Mollie Herbold and Annie French; and uncles, Jack and Willard Lossiah.
He is preceded in death by his father, Jeff Taylor; paternal grandparents, Julius and Julia Taylor; maternal grandparents, John and Charlotte Lossiah; one brother, Michael Taylor; great nephew, Mickey J. Meuse; and several aunts, uncles, and brother-in-law.
Funeral services will be held on Thursday, March 15 at 12pm at Straight Fork Baptist Church.  Pastors Charles Ray Ball and James "Bo" Parris will officiate.  Burial will follow at the Lossiah family cemetery.  Pallbearers will be Bear, Noland, Kirk, Gary, Albert, Earl, Howard Jr., and Eric.
Long House Funeral Home is assisting the Taylor family.