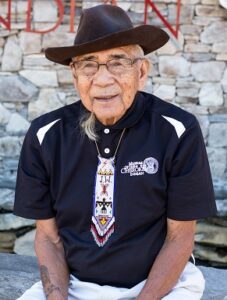 Dr. Jeremiah "Jerry" Wolfe, 93, of Cherokee, passed away on Monday, March 12, 2018 at Mission Hospital in Asheville with his loving family at his side.
He was born on September 28, 1924 to the late Owen Wolfe and Lucy Ann Davis Wolfe in the Big Cove Community.  He later moved and lived most of his life in the Yellowhill community of Cherokee.
In addition to his parents, he was preceded in death by his wife of 52 years, Juanita (Bradley) Wolfe; three sisters, Annie Tsosi, Rose Curley, and Mary Sneed; and three sons, Michael Owen Wolfe, Jeremiah Wolfe Jr., and Dennis Ray Wolfe.
Surviving are three daughters, Vangie Stephens (Tommy), Gerri Grady (Sean), and Robin Wolfe, all of Cherokee; two sons, Joe Wolfe and Tony Wolfe; step-daughter, Jackie Moody; special friend, Nancy Pafford of Lakeland, Ga.; and several grandchildren and great grandchildren also survive as well as relatives across the country.
Jerry grew up in Sherrill Cove on the Cherokee Indian Reservation in western North Carolina.  The family home sat in the middle of what is now the Blue Ridge Parkway.  Jerry started his life on Sherrill Cove as an only child although he had three sisters.  He was the baby and his sisters were usually off at boarding school away from Cherokee.
As he grew into a man, Jerry joined the United States Navy on July 21, 1943.  He proudly served aboard the Queen Mary and worked on an aviation repair vessel and a destroyer escort.  On June 6, 1944, he participated in the invasion of Normandy.  As the only Native American in his division, he gained the respect of the other men as he was able to adapt very well to strenuous work because of his upbringing in the harsh Great Smoky Mountains.  Prior to his discharge from the Navy on Feb. 1, 1950, he married Juanita Bradley on Jan. 2, 1949.  Within a few years, he started a family that grew to five boys and three girls.
Jerry was a mason by trade and was one of the last Cherokee stonecutters.  He built fireplaces, walls, and monuments – works of art.  Jerry retired from the federal service in 1985 and has been working at the Museum of the Cherokee Indians since 1987 as a greeter.
He had traveled the southeast and is often asked to represent the tribal perspective on plants and animals of the Great Smoky Mountains.  He has assisted in translating documents into Cherokee as he reads and writes using the Cherokee Syllabary.  He spent time in local schools teaching the Cherokee Language and telling stories of the Cherokee people to the children.   At home, Jerry dug ginseng, hunted for wishee mushrooms, and kept track of the Russian boars, bears, elk and wild turkey.  He gathered ramps and berries when he had time.
In the spring of 2013, Jerry was named Beloved Man of the Eastern Band of the Cherokee Indians – the first man to receive this honor in over 200 years.  In the same year, he was honored for his military service.  In 2002, he was awarded the Cherokee Heritage Award.  In 2008, he received an award from the North Carolina State Legislator for his contributions to the Eastern Band of the Cherokee as a story teller and a stick ball caller.  In October 2010, he was among a group of veterans to visit Washington D.C. and the World War II memorial.  In 2014, he was awarded the Patriot Award, and in the spring of 2017 was bestowed with the Order of the Long Leaf Pine by Governor Roy Cooper and also received an Honorary Doctorate of Human Letters from Western Carolina University. The list goes on of his accomplishments and these are only a few.
Dr. Wolfe represented the Eastern Band of the Cherokee Indians on numerous occasions by offering prayers and smoke as he believed the Beloved Man should help the community and the Tribe whenever possible.  He was passionate in his hope that the Cherokee children learn the Cherokee Language and the traditions and customs of the Tribe.  His loss is a great blow to the Cherokee people and the people of western North Carolina and the nation as a whole.  He cannot be replaced and he will be missed.
Visitation will be held on Friday, March 16 from 5:30pm until 12midnight at the Cherokee United Methodist Church.  Funeral services will be held on Saturday, March 17 at 1pm at the Chief Joyce Dugan Cultural Arts Center at the Cherokee Central Schools.  Rev. Ralph Eanes Jr., Bo Taylor, and Derek Robinson will officiate. Burial will follow at the Yellowhill Veterans Cemetery.  Pallbearers will be Christopher Reed, Keenan Grady, Faolan Grady, Richard Wolfe, Brandon Stephens, Jake Stephens, and Dennis Tice.
Family welcomes flowers, but in lieu of flowers donations can be made to the New Kituwah Academy at 60 Water Dam Road, Cherokee, NC  28719 or to the Jerry Wolfe scholarship fund established with First Citizens Bank in Cherokee, NC.
Long House Funeral Home is assisting the Wolfe family.