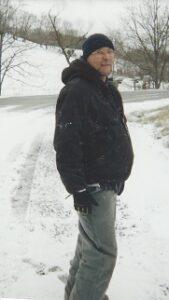 Ralph Edward Brady, 55, of Cherokee, passed away unexpectedly of natural causes on Saturday, March 3, 2018.
He was retired and a veteran of the US Army.
Ralph is survived by his special partner, Tracy Manis; his mother, Blanche McCoy Vickers; his children, John A. Brady (wife Ashley) of Sevierville, Tenn., Dakota Brady (wife Ashley) of Sevierville, Tenn.; Katie Brady, Ashley Heflin (husband Justin), and Adam Dean Deleary; eight grandchildren, Nathan Brady, Jase Brady, Jordan Goins, Korbin Heflin, Gabby Brady, Nevaeh Brady, Nova Brady, and Hailey McClure; brothers, Robert Brady Jr., Frank James Brady, Rocky Eugene Brady, and William Joseph Brady; sisters, Keri Lynn Brady and Carmalita Brady; auntie Jan McCoy; and numerous cousins also survive.
Ralph was preceded in death by his father, Robert Brady Sr.; special daughter, Crystal M. Brady; and special grandpa, Frank McCoy.
Visitation will be held on Wednesday, March 7 at Long House Funeral Home from 12 – 2pm.  No further services will be conducted.