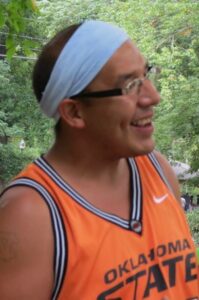 John Ricky Lossiah Jr. (Critter), 37, of the Yellowhill Community, went home to be with the Lord where he was greeted by his son, Caden Jayce, on Sunday, March 4, 2018.
Critter was a loving father, son, brother, and friend. He was an avid Carolina fan with a sense of humor like no other. His heart and love for others was immeasurable.
He is survived by his sons, Colby James Lossie and Colin Ja'Rae (Dragon) Lossie; his companion, Sammi Sequoyah; his parents, Charlotte Littlejohn, Rick and Kim Lossie; sister, Leslie Lossiah (Jesse Sneed); brother, Travis Lossie; sister-in-law, Leigh-Anne Ledford; nieces, Amila Lossie and Anna Watty; nephew, Keedan Lossie; and many aunts, uncles, cousins and friends who loved him dearly.
He was preceded in death by his paternal grandparents, John Henry and Willa Mae Lossiah; maternal grandparents, Jim and Mollie Littlejohn; aunt, Elsie Wolfe; and uncles, Jim, Leonard, and Mike Littlejohn, all of whom were there to welcome him home.
Visitation will be held on Wednesday, March 7 from 11am – 1pm at Acquoni Baptist Church with funeral services to follow at 1pm. Pastors Patrick Odell and Ercell Green will officiate. Burial will be at the Piney Grove Cemetery. Pallbearers will be Channing George, Brant Grant, Jason Thompson, Cricket Driver, Mike Drakeford, and Travis Calhoun.
Long House Funeral Home is assisting the Lossiah family.