March is National Nutrition month and the Cherokee Indian Hospital Nutrition department has developed a month of activities to not only promote health and fitness but to focus on both employees and patients becoming more nutritionally aware.  From Meatless Mondays, Lunch & Learn Wednesdays, to Friday's promoting fitness with line dancing, tai chi and Zumba, the Nutrition department wants to share how you can "Go Further with Food" (this year's theme) and a healthy diet can mean more than just fruits and vegetables.
Nilofer Couture, CIHA Nutrition Department manager, recommends keeping your pantry, fridge and freezer free of food with a lot of added sugar, solid fat and salt. "You don't have to make all the changes at once, but start with one small change at a time," Couture stated. It is important to include a variety of healthful foods from all the food groups on a regular basis. Combining healthy eating with regular physical activity can help maintain a healthy weight and prevent disease.
"We will also be having a hydration station outside administration on Thursdays," said Couture.  "Drinking water is a great calorie-free way to satisfy your thirst and we'll be promoting different ways of flavoring water."
The Nutrition department also hosts an annual art contest in collaboration with Cherokee Central Schools during this month where the 4th grade class creates artwork based on the years' theme. The art teacher selects the top 50 entries which are put on display at CIHA. The top three winners, voted by CIHA employees, receive a prize at their 4th grade end of year ceremony.
For more information about Nutrition month, contact Nilofer Couture 497-9163 ext. 6459.
Below is a calendar of events: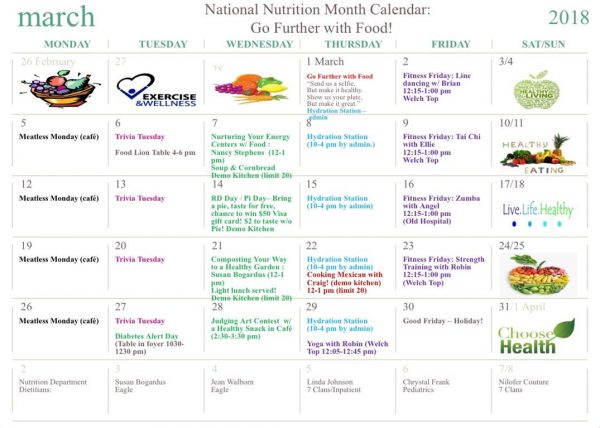 – Cherokee Indian Hospital public relations