By ROBERT JUMPER
EBCI TRAVEL & TOURISM
     The Cherokee Travel and Tourism team celebrated the visitors and community with a day of fun activities in Cherokee on Saturday, May 14. The annual Visitor Appreciation Day brought hundreds to the Cherokee Welcome Center and Fairgrounds to enjoy the hospitality of the Eastern Band of Cherokee Indians.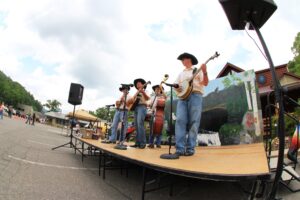 Under the leadership of Welcome Center Coordinator Josie Long, guests were treated to a day of great food and performances from talented members of the Cherokee and surrounding communities. Birdtown native, historian and storyteller Freeman Owle and Painttown native Davy Arch shared several Cherokee stories with an attentive audience.
     The crowd favorites were the Cherokee Royalty, including Miss Cherokee Tonya Carroll, Teen Miss Cherokee Andrea Cedillo, Junior Miss Cherokee Kaley Locust and Little Miss Cherokee Aliyah Bigmeat. Each welcomed the community members and visitors, both in English and the native Cherokee language. Kenny Watty performed a hoop dance as did World Champion Daniel Tramper. Zena Wolfe and her husband sang a few traditional gospel tunes. The Rye Holler Boys wowed the crowd with their talents in blue grass music. The Cherokee Elementary Dancers and Singers got rounds of applause for their presentations on stage. In addition to the stage performances, the NAIWA women gave out samples of traditional Cherokee foods. Bill Grimsley performed magic and juggled for young and old alike.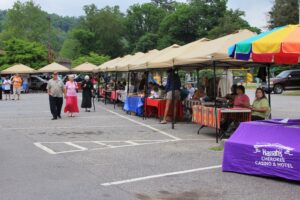 Two of the Cherokee Art Bears were brought out from "hibernation" to the delight of many of our visitors. Many of our local businesses, organizations, Cherokee artists, crafts-persons, bakers and farmers exhibited and demonstrated at the Visitor Appreciation Day. Door prizes were issued each hour of the event. Those providing items or contributing to the event were EBCI Facilities Management, EBCI Housekeeping, Cherokee Preservation Foundation, Harrah's Cherokee Casino and Hotel, Sequoyah National Golf Club, Cherokee Chamber of Commerce, Cherokee Historical Association, Cherokee Trading Post, White Buffalo, Unique Gift Outlet, Richard Saunooke, Lori Reed, Elsie Rattler, Rocky-Bill-Chuck Brady, Lily May Tucker, Hollie Stover, Granny's Kitchen, Cherokee Hills Golf, Natahala Outdoor Center, Stockyard Steakhouse, Pizza Inn, Chestnut Tree Restaurant, Julie's Hair Salon, Wildwater Adventure Center, Walmart, Cherokee Fun Park, Crowe's Sno-To-Go, Big Cove Head Start, Pepsi and Sound of Music DJ services. Faye Pheasant and Nikki Nations hand-painted a beautiful landscape backdrop for the stage.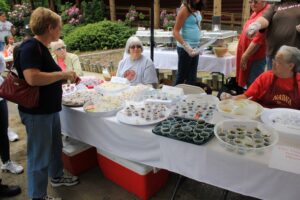 The Cherokee Welcome Center was also open for business with staff providing popcorn and coffee for guests. Soft drinks, Cherokee Bottled Water, Cherokee One Feather, Cherokee fishing permits, fax and copy services were all available for purchase. Visitors also enjoyed; as they perused a wealth of accommodation, attraction and other visitor related information; an exhibit on loan from the Museum of the Cherokee Indian and artwork from Qualla Arts and Crafts Mutual.
     The activities shifted to the Cherokee Indian Fairgrounds as Howard Wahnetah, Janice Wildcatt, Wayne Owle and David Bushyhead hosted the first Motorcycle Poker Run. The Poker Run is an activity that allows guests to tour and visit local businesses to gather the necessary pieces to win valuable cash prizes. Stanley Queen, Sam Toineeta, Steve England and Susanne Crawford were all winners at the Poker Run. The Poker Run finished up around 3 pm and an Indian Taco dinner was served to approximately one hundred guests. The dinner was followed by an outstanding Blue Grass music performance by Balsam Range.
     Josie Long, Jeremy Polecat, Faye Pheasant, Hollie Stover, Angie Hull, Chris Watty and Nikki Nations spent months in planning and execution on behalf of Cherokee Visitor Appreciation Day. Howard Wahnetah and Janice Wildcatt prepared and executed the first stand-alone motorcycle poker run hosted by Cherokee Fairgrounds. Kristy Maney served as administrative assistant, event worker and staff photographer for both pieces of the Saturday visitor event. Wayne Owle and David Bushyhead worked tirelessly to clean, assemble and disassemble much needed parts of each event.
     Frieda Huskey traveled to the I-26 Visitor Center to participate in their celebration, represent Cherokee and participated in the Saturday activities. The EBCI Travel and Tourism Office and the EBCI Marketing Department would like to thank all of those who visited or contributed to the Visitor Appreciation Day and Poker Run.  We look forward to seeing everyone again soon.
 – Photos by Kristy Maney